Welcome to Arrowhead Park, a modern community that caters to your every need. Our diverse neighborhoods offer a variety of lifestyles that create a vibrant and inclusive community. With over a mile of trails, you can explore our lush and vibrant natural environment while enjoying inspiring mountain views. Take advantage of our BBQ facilities and playground for a fun-filled day with family and friends.
Our newest neighborhood offers single-family home sites, perfect for those seeking a modern and comfortable lifestyle. Starting at a base price of mid $400s, these homes feature an impressive 2,300-2,360 square feet of living space. Whether you prefer a finished or unfinished area, our homes cater to your every need.
At Arrowhead Park, we believe in providing a space that feels like home, with features that make life more comfortable and enjoyable. Join our community and experience modern living at its finest.
Base Price mid $400s
Approx. Sq. Ft. 2,300 – 2,360
Finished & unfinished areas may vary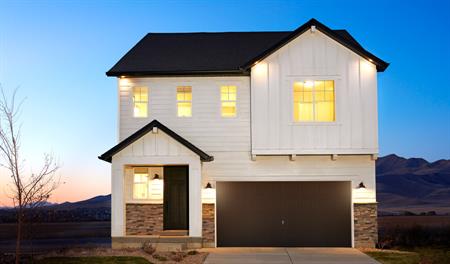 Click here to learn more about building your dream. (801) 377-5600